Tabla de Contenidos
SMOKING PIPES IN MADRID
Where to buy smoking pipes in Madrid? We will try to answer this question, but as a pipe club, we will focus on the more or less specialised shops and tobacconists. Of course some pipes are to be found in most tobacco dealers, as well as at the main chain of big Department Stores. But, in the first case, the pipes to be found are likely to be cheap low quality items, whereas at the big department stores there is no expert advice to be received from the employees. So lets have a look at the more specialised shops.
But first, let us explain that, by providing you with these pieces of information, we intend to promote pipe smoking and smoking good quality tobacco mixtures in well made pipes, while helping the dealers, the craftsmen and indirectly the manufacturers and distributors to sell more and better pipes. We do believe that by disseminating information and fostering a little more competition among the reviewed shops we will benefit everyone in our small pipe smoking community. Nevertheless, you will easily understand that ours being a small community, most of us, the "aficionados" within the pipeclubs, happen to know everybody personally. We know the dealers, the managers of pipe factories, in Spain and abroad, the craftsmen and the middlemen, thus if we need to keep a good relationship with all, or must of them, we have to refrain from being too openly critical. We will thus remain quite neutral, but will go as far as possible in providing you all valuable information.
Please note that the price of a pipe of the same shape, same series of a given very well known brand might vary as much as 80 Euros between some of the shops reviewed below! So if you do have some time and don't want to pay too much, do visit more than one place and compare prices!
---
---
---
Moreu
At the Heart of Madrid, a mere 100 meters from the "Puerta del Sol" roundabout (Subway station "Sol"), at number 23 on Tetuan street, you will find the Moreu's brothers shop. Both Rafa, the owner and Carlos, the sympathetic pipe smoker, will always be willing to cover the whole counter with boxes over boxes displaying hundreds of pipes. They sell a lot of Spanish made pipes such as those by the Catalonian craftsman Jean Pierre SOLER or those made by the company Sucesores de Emilio Navarro Ltd. or by SALVATELLA. This last brand disappeared in 2003, but there still is a wide stock of those good value for money pipes. As for the heirs of Emilio Navarro they manufacture to main brand names: the best one is BRUKEN (this was the choice for the World Cup hosted by the Barcelona Pipe Club in 2003) which are very, very good value for money pipes, and the other the cheaper seconds called NEW BOND. In addition you might find some unique pipes signed by EMILIO NAVARRO himself, usually with astonishing straight grain, which sell for several hundred dollars more in the States. As for the imported pipes, the shop as the largest choice of Petersons from Dublin and Stanwells from Denmark, plus many pipes from the Italian makers Savinelli, Brebbia and Pipa Croci, the French Chacom, Butz Choquin, Claude Romain and Jeantet, the Danish W.Ø. Larsen, the German Vauen (including the four different huge churchwardens from the "Lord of the Rings" series), the modern Porsche, and the more classical British Parkers, Falcon, Charatans and DUNHILL's. In addition, they usually have some Dutch clay pipes, some made of porcelain, some Corn Cobs made by Missouri Meerschaum Company as well as a number of Turkish and even Austrian Meerschaum pipes.
It is worth mentioning that they will send your pipes for repairs, either to good craftsmen, silversmiths or to the manufacturers, and their repair service is very reliable. Before selling pipes Rafa sold lighters and he is an expert on lighters from any possible make. He personally fixes them and when impossible, will send them to the factory. The shops sells lighters, many of them pipe lighters, from the main brand names including Dunhill, Ronson, Colibri, Corona, Sarome and Dakota among many others. They have the widest choice of Zippo lighters in Madrid, and possibly in Spain.
Both Rafa who's been in the business of pipes for many years even if he never smoked and the sympathetic Carlos, who smokes a 50 grams pouch every day in his battered pipes, will advice you and won't object your remaining for hours in the shop, even if you don't buy anything in the end. As a matter of fact some of us have sometimes spent the afternoon at the shop, just chatting with them and seeing hundreds of pipes without making a decision on which to buy: something which, given the choice, might be hard!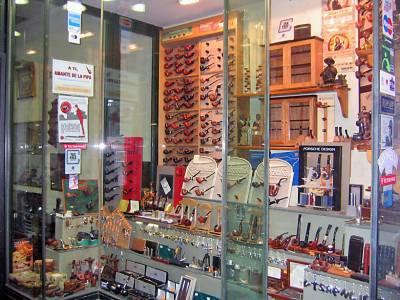 RAFA MOREU C/ Tetuán, 28 (a 50 metros de la Puerta del Sol) - 28013 Madrid Tel.: 91 531 01 43
---
---
---
La Cava de Magallanes
This is a big tobacconist's shop, which offers a good choice of pipe tobacco mixtures and possesses one of the best cigar cellars in town. Pepe (José Martinez Franco), the tobacconist, is an expert on cigars and enjoys talking about them.
But beyond selling tobacco and cigars, this is one of the best pipe shops in Madrid. It offers pies from the following brands: Peterson, Stanwell, Chacom, Porsche and many Italian pipes such as Aldo Velani, Luigi Viprati and a huge amount of beautiful Pipa Croci.
In addition the shop windows are impressive: they are filled with beautiful accessories, pipe cabinets, leather pouches, pipe tools and the best humidors.
It is thus, one of the classics in Madrid, and you ought to visit it. Pepe as well as all his staff are all very kind. The address is Magallanes street nbr. 16. The nearest Subway station is "Quevedo".
Cava de MAGALLANES - Estanco José Martínez Franco C/ Magallanes, 16 - 28015 Madrid Tel.: 91 448 33 45 cavamag@dragonet.es
---
---
---
Estanco de la Vaguada
Mari Carmen is the owner of this tobbaconist's shop on the ground floor of the huge shopping mall La Vaguada between the subway stations of "Barrio del Pilar" and "Herrera Oria".
Given its location, this tobacconist sells many cigarettes, and there is always a line in front of it. Hopefully enough you don't need to queue if you're looking for pipes. Mari Carmen has always loved pipes and, when she had her store refurbished, about a year ago, she had a handsome cabinet and a very nice piece of furniture made in beautiful woods, to keep and expose her pipes.
She sells Petersons, Stanwells, some W.Ø. Larsen and Savinellis, among other brands.
Boutique del fumador - Expendeduría de tabaco "La Vaguada" Mª. Carmen Rivera Fernández Centro Comercial Madrid 2, Planta Baja, Local 80 - 28029 Madrid Tel.: 91 739 46 03
---
---
---